It's no coincidence that we're honoring the leaders of our future on the very same day Judge Ketanji Brown Jackson, the first Black woman nominated to the U.S. Supreme Court, begins her confirmation hearings in Washington, D.C. The time for change is now!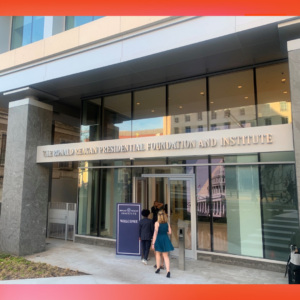 A handful of Cabinet members of the Young Women's Initiative of Minnesota were in D.C. last week for a women-led civics summit at the Ronald Reagan Institute. YWCA St. Paul supports and uplifts these leaders' mission of eliminating the barriers young people like themselves face every day by creating long-term solutions! That includes actively participating in advocacy development, policy initiatives, and community engagement.
The Cabinet members are appointed by the Office of Governor Tim Walz & Lt. Governor Peggy Flanagan, which is comprised of 32 leaders between 16 and 24 years old from eight communities across Minnesota. The Cabinet is charged with ensuring that the work of the Young Women's Initiative stays grounded in the lived experiences of the young women and youth from each community and the community-specific challenges and solutions they identified.
The Young Women's Initiative of Minnesota is a partnership between the Women's Foundation of Minnesota and the Governor's Office.