During Black History Month this year, we're running a series of posts looking at African American leaders in both the past and present. Today's entry focuses on two Minnesota activists.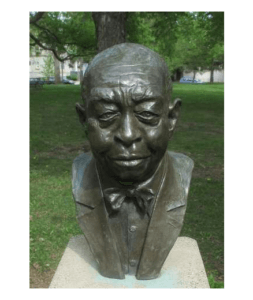 Frank Boyd
"A fighter for his union, his people, his class"

1976 Commemoration 
By the early 1920s, the Pullman Car Company was the country's largest employer of African-Americans. Over 12,000 black men served as porters on Pullman's luxury train cars, working 100-hour weeks and depending on tips from white patrons who demanded servility.
Frank Boyd had been a Pullman porter since 1907, and had successfully petitioned the company for a wage increase in 1912. Involved in several fledgling unions, he worked tirelessly despite the Pullman Company's constant hostility to unionizing. Boyd would not stop, and he wasn't alone: as he put it, soon "every thinking porter was talking organization."
When the Brotherhood of Sleeping Car Porters (BSCP) formed in 1925, Boyd joined immediately as a fierce advocate, which cost him his job. For decades, he organized for the nation's most influential African-American labor union. When he retired at age 70, the BSCP hailed him as "The Black Labor Prophet," and founder A. Philip Randolph called Boyd "a black revolutionist who would be remembered with Nat Turner and Frederick Douglass." 
Today, Boyd Park neighbors YWCA St. Paul on Cathedral Hill, commemorating his decades of work.
Robin Hickman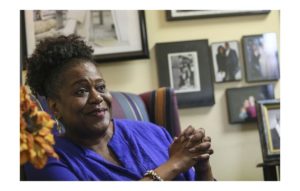 "I simply do what the elders in the village did for me. Why am I here? Because this is me."

Robin Hickman
Black Minnesotans engage in activism daily, both in the communities they were raised and across the country. Activist and producer Robin Hickman credits her upbringing in the Selby-Dale neighborhood, and her abundance of role models, as her inspiration. Both her parents, plus her great-uncle Gordon Parks, taught her how to see untold stories. Now she's made it her life's work to lift up those voices. 
After college she served as the Youth-Issues Coordinator for the city of St. Paul, introducing programs to strengthen black communities and at-risk youth. She later served as executive producer of community affairs at Twin Cities Public Television. The documentaries and programs she helped develop include the award-winning "Don't Believe the Hype," created by and for young people from marginalized communities. And she spent 13 years on our board at YWCA St. Paul, helping us constantly in our mission to eliminate racism and empower women. 
Today, that work continues through her company SoulTouch, her programs like "Lovin' the Skin I'm In," and collaborative efforts with the Ordway Center, the Walker Art Center, and VocalEssence.
"This is my ministry," she says. "It is a calling of my life."