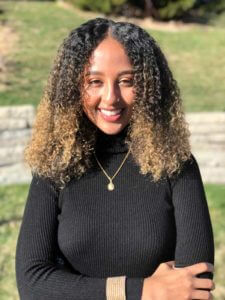 YWCA St. Paul is thrilled to congratulate Raie Gessesse, a 2020 graduate of the Young Women's Initiative of Minnesota (YWIMN), a first-of-its-kind partnership between the Women's Foundation of Minnesota and the State of Minnesota, on being named a 2021 Paul & Daisy Soros Fellow. YWCA St. Paul provides leadership and advocacy development to the YWIMN Cabinet of young women.
The Paul & Daisy Soros Fellowships for New Americans support outstanding immigrants and children of immigrants who are pursuing a graduate education in the United States. Thirty individuals are selected a year and each receive up to $90,000 towards their graduate education. This year's Fellows were selected from their largest applicant pool ever – 2,445 applicants. The selection criteria focuses on a student's drive, creativity, intellectual spirit, and their commitment to the values at the heart of the United States Constitution and Bill of Rights.
Raie is a first-generation Ethiopian American who graduated from Hamline University with highest honors and Phi Beta Kappa, earning a Bachelor of Arts degree in public health and political science in 2020. She researched the political determinants of health, highlighting the impact of policy, politics, and ideology on health outcomes, especially for marginalized populations.
Currently, Raie is the Midwest program manager for IGNITE National, one of the country's largest young women's political organizations dedicated to building a movement of young women who are ready and eager to be the next generation of political leaders.  Raie, alongside Zaynab Abdi and Ponny White, was a panelist in a 2020 Race & Equity Conversation discussing the impact of racism on education.
Raie joins the dynamic 23 year old community of Paul & Daisy Soros Fellows, which includes U.S. Surgeon General Vivek Murthy; Olympians Amy Chow and Patricia Miranda; California Surgeon General Nadine Burke-Harris; First Lady Jill Biden's Chief of Staff Julissa Reynoso Pantaleón; Stanford AI leader Fei-Fei Li; author and journalist Aarti Shahani; entrepreneur Sangu Delle; computational biologist Pardis Sabeti; theater director Patricia McGregor; Maine CDC Director Nirav Shah; Aspiration CEO Andrei Cherny; award-winning writer Kao Kalia Yang, and more than 680 Fellows.
Congratulations Raie!